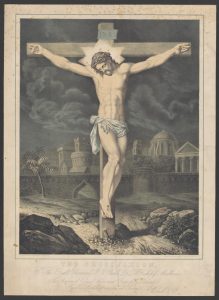 Schoenfeld, Frederick (1810-68; Swiss/Australian), after Michelangelo Buonarotti (1475-1564 Italian)
The Crucifixion 1860
Colour lithograph
Presented by Hamel & Co., c.1868
National Gallery of Victoria (p.178.1-1)
The main inscription runs as follows: "The Crucifixion, // To the Right Reverend J.E.Goold D.D.Bishop of Melbourne // This Specimen of Colonial Art, is most Respectfully Dedicated // By His Lordship's very obedient Servants Hamel & Co." Minor inscriptions identify Schoenfeld, Michelangelo, and the publishers (Hamel & Co., 29 Queen St., Melbourne).
Schoenfeld arrived in Melbourne in 1858 and produced notable illustrations of Australian plants for various publications by Ferdinand von Mueller (1859ff.), as well as lithographs of local zoological specimens for publications by Frederick McCoy (director of the National Museum of Victoria), published in the 1870s. He also produced a widely-admired lithographic portrait of Ludwig Becker.
The precise source of the present image is uncertain, as is its relationship to Michelangelo's wooden Crucifix (Florence, S.Spirito, 1492), thought lost for centuries until its rediscovery in 1963.
Refs.
Not listed in NGV 1894 or 1905
This work is listed in the NGV catalogue as by unknown artists (but with a reproduction as shown here); see also PF (under 1868)
For Schoenfeld (not listed in either Bénézit or AKL), see https://www.daao.org.au/bio/frederick-schoenfeld/biography/ (by Thomas Darragh 1992, last updated 2011), mentioning the present work, and adding that Schoenfeld became despondent after falling into straitened financial circumstances after 1865, and eventually took his own life
For Michelangelo's wooden Crucifix, see e.g. Michael Hirst, Michelangelo, Vol.I: The Achievement of Fame, Yale UP, 2011, pp.20-21 (and n.92) and colour pl.3