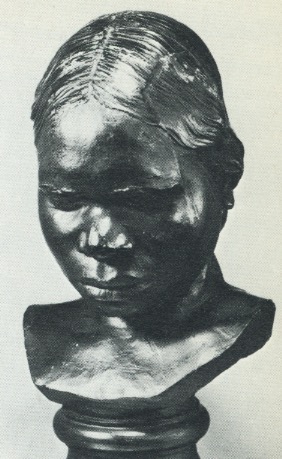 Summers, Charles (1825-78; English)
16 Casts of Heads of Aborigines of Victoria 1866
Plaster, various sizes
Presented by the Commissioners for the Melbourne Intercolonial Exhibition, 1867
Museum of Victoria collection (10 extant?)
Moulded from life, then finished and tinted under Summers' direction, these showed people living at the Coranderk Station, near Healesville. They were included in the NGV's 1880 catalogue of busts and statues, but not listed in NGV 1894 or 1905, and may well have been displayed in the "ethnographic" section of the Melbourne museum by that stage, rather than in the sculpture collections of the gallery. Each bust was labelled: "Female aged 26 – Loddon tribe" (etc.).
Christine Downer, in an article published in Art and Australia in 1987, notes that the original series of 16 busts was exhibited at the Paris International Exhibition in 1867, prior to being presented to the Melbourne collection; she adds that 10 of them are extant in the collection of the Museum of Victoria. Downer also provides valuable context, pointing out that 4 standing Aboriginal figures appeared in the first sketch for Summers' Burke and Wills statue published late in 1861, on a level below the two explorers. Downer also reproduces photographs of related maquettes of standing Aboriginal figures by Summers, apparently modelled on antique and Renaissance precedents.
If, as Downer suggests, the intention behind these various sculptures was essentially benevolent, they may be related to Bonyhady's idea of an "Aboriginal Arcadia" suggested in some Australian colonial landscape paintings of the period.
Refs.
AR 1870-71, p.28; NGV 1880, p.26 (under 'Casts of Busts'); not listed in NGV 1894 or 1905
See in particular Christine Downer, "Charles Summers and the Australian Aborigines," Art and Australia, vol.29, no.2 (Summer 1987), pp.206-212, with relevant photos, including a reproduction of Chevalier's sketch of the Burke and Wills project, published in the Illustrated Australian Mail, 25 Dec.1861. See also Sturgeon Australian Sculpture (1978), fig.15 (work reproduced here); and Galbally First Collections (1992), cat.70: Bust of an unnamed Aboriginal Woman (33 x 19 x 17 cm)
See also Bonyhady, Images in Opposition (1985), ch.2, pp.23-39 (discussing paintings by John Glover and others)