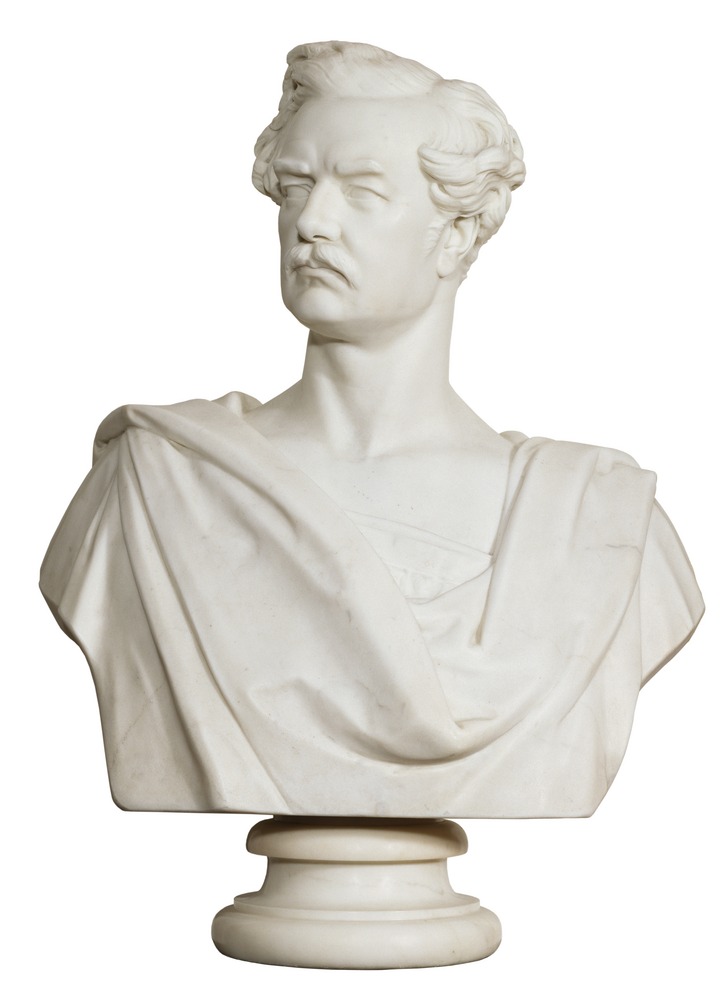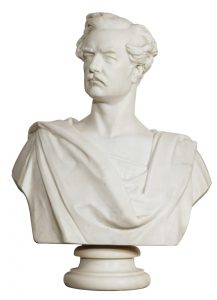 Summers, Charles (1825-78; English)
Bust of Gustavus Vaughan Brooke 1868
Marble, 94.0 x 76.0 x 35.5 cm
Presented by subscribers, 1868; transferred from NGV to SLV, 1943
State Library of Victoria (LTS 5)
Brooke (1818-66), an English Shakespearean actor well known to Australian audiences, reportedly died heroically when his ship sank on a voyage from England to Melbourne in January 1866.
Summers' suitably flambuoyant sculpture was unveiled in the temporary picture gallery of the library late in 1868. For a wood engraving of the official presentation, and further details, see Donors etc. – overview.
Funds used for the Brooke bust included some of the money originally raised for a statue of Shakespeare, to mark the tercentenary of the dramatist's birth, first proposed in 1860 by a committee including Redmond Barry and local critic James Smith, a Shakespeare devotee who also knew and supported Brooke. Charles Summers produced a plaster model of the Shakespeare statue, displayed early in 1864, but the plan failed to gain sufficient support, and a scholarship was endowed instead.
Refs.
SB, p.64 (Busts); NGV 1880, p.2; NGV 1894, p.132 (VI.Rotunda, no.30); NGV 1905, p.105 (IV. Vestibule, no.6)
Details and photo in SLV online catalogue; see also SLV Art of the Collection (2007), pp.23-24
The story of the Shakespeare statue and the Brooke bust is told in entertaining detail by Stuart LaTJ 29 (1982), including a photograph of the plaster Shakespeare statue (lost?), on p.3, and information on another of James Smith's projects, a ceremonial sword designed by Nicholas Chevalier, and presented to the liberator of Italy, Giuseppe Garibaldi, in 1861