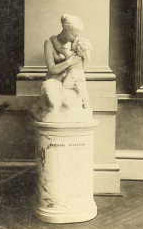 Summers, Charles (1825-78; English)
Maternal Affection (c.1871)
Marble, size unknown
Purchased, 1884; de-accessioned and sold at auction, 1943
Present location unknown
NGV 1905 indicates that this work was exhibited at the Royal Academy in 1871, and purchased in Melbourne in 1884, with four other sculptures, for £1000.
It is reproduced in a "stereograph" of the group in the Stawell Gallery: detail shown here.
This work, which evidently revealed a more intimate side of Summers than the other sculptures by him in the pre-Felton NGV, was sold for £40 at the 1943 auction of NGV sculpture; its subsequent fate is unknown.
Refs.
AR 1884; SB, p.67; NGV 1894, p.133 (VI.Rotunda, no.44); NGV 1905, p.51 (II.Stawell Gallery, no.62), noting that the work was bought for £1000 with * Lombardi (Giovita) Fowls – Cocks Fighting {1884} Loc? [SC],etc
For the stereograph by Barcroft Boake (1838-1921), in the "Melbourne Art Gallery and Museum Series", see SLV online catalogue (SLV no.H82.361/18; with reproduction)