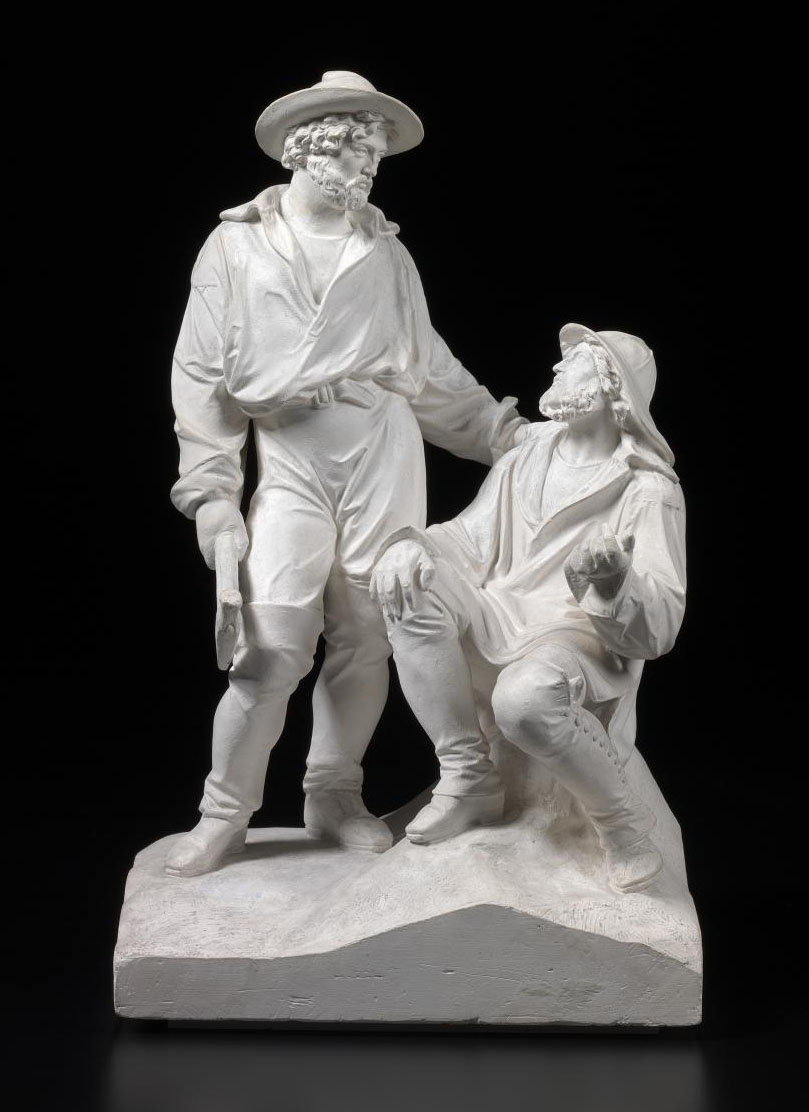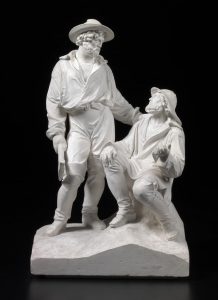 Todt, Emil (c.1810-1900; German)
The Gold Diggers 1854
Plaster, 38.3 x 23.9 x 15.6 cm
Gift of Mrs Leonard Terry, 1884
National Gallery of Victoria (p.79.2-1)
According to a writer in the Argus of August 1854, this statuette "indicates nothing short of genius of the highest order." It certainly heroizes the diggers considerably, by comparison with other contemporary representations by S.T.Gill and others.
In his detailed study of Todt, Terence Lane (2006) suggests that this work may have been a maquette for an unrealized monumental statue in marble or bronze. Both Lane, and, earlier, Noel Hutchison (in Radford 1976), identify various possible classical sources, and also observe the close resemblance between the disposition of the two miners and Charles Summers' later Burke and Wills statue (1864-66).
By 1869, when it was included in a loan exhibition at the Public Library, where it attracted considerable attention, this work was owned by the architect Leonard Terry. His widow donated it to the Melbourne collection after his death.
Refs.
AR 1884, p.36 (under "Casts"); NGV 1894, p.140 (VII.Cast Gallery, no.99, describing it as an original work); not listed in NGV 1905; PR no.1826
For the work, see especially Lane "A life revealed: Emil Todt" (2006), including many of the details included above; Lane compares the Diomedes of Polykleitos, Michelangelo's Giuliano de'Medici, and Summers' Burke and Wills, and also cites the 1869 exhibition catalogue, cat.no.22 (artist's name mis-spelt as Edward Todd). See also Noel Hutchison in Radford Early Australian Sculpture (1976), unpaginated. Both Hutchison and Lane quote from the report in the Argus, 28/8/54. See also ; Sturgeon Australian Sculpture (1978), p.23 and fig.8; and Lane 19th-century Australian art (2003), pp.40-41. 
For the Burke and Wills statue,  see Hayes "Charles Summers' 'Burke and WiIls'" (1988); and for Leonard Terry (1825-84), see e.g. http://adb.anu.edu.au/biography/terry-leonard-4702 (biography by Miles Lewis).