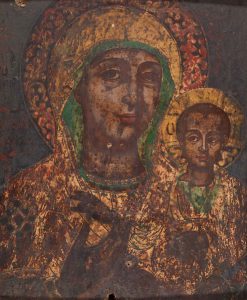 Unknown artist (17th-century Russian)
Virgin and Child
Oil on wood panel, 40.6 x 34.0 cm
Gift of Mr H.H.Hart, 1868
National Gallery of Victoria (p.301.15-1)
This icon is clearly documented in the NGV stock-book as donated to the Melbourne collection in 1868.
An added note in the stock-book indicates that it was auctioned in 1948 (when Daryl Lindsay's purge of older works in the collection was still going strong), but it was evidently granted a stay of execution, despite its obviously mediocre condition.
Several other late Byzantine and Russian icons entered the NGV after 1905, especially, interestingly enough, during Daryl Lindsay's period as director during the 1940s-50s.
Refs.
SB, p.301 (as presented in 1868 and auctioned in 1948); not listed in NGV 1894 or NGV 1905
For the other late Byzantine and Russian icons in the NGV collection, see Hoff (1995), pp.34-40, and the gallery's current online catalogue