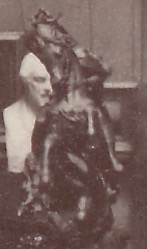 Unknown
St George and the Dragon
Bronze, size unknown
Presented by A.Mollison (by 1872?); auctioned 1943
Unidentified; present location unknown
This work is listed in NGV 1894, with the details given above. The donor is possibly identifiable as Alexander Fullerton Mollison (1805-85), an early pastoralist who lived in Victoria during the 1830s-40s and again from 1873 until his death.
A small sculpture dimly visible in the background of an 1872 photograph of the Melbourne Public Library's Picture Gallery (detail reproduced here) may be this work.
[photo: detail of 1872 photo of NGV Picture Gallery (SLV)]
Refs.
NGV 1894, p.105 (V.Buvelot Gallery, 1st bay, no.84: details as above)
For A.F.Mollison, see http://adb.anu.edu.au/biography/mollison-alexander-fullerton-2466 (by Gael Thomsen, 1st publ. in ADB vol.2, 1967); also discussing Mollison's brother William (1816-86). See also 1943 auction of NGV sculpture (no.16: sold for £12)
The 1872 photo is held in the SLV (H96.160/1793)