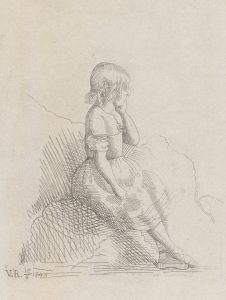 Victoria, Queen (1819-1901; German/English)
Princess Adelheid of Hohenlohe-Langenburg 1840
Etching on chine collé on brown paper, 15.2 x 10.9 cm (image and plate), 31.8 x 25.6 cm (sheet)
Donated by Queen Victoria, 1893
National Gallery of Victoria (p.191.4-1)
This is the earliest of six etchings by the British monarch, donated by her in 1893, together with a further six by her husband Albert (see separate artist entries for further details).
This print depicts Victoria's niece Adelheid or Adelaide (1835-1900), as a young child: the plate is dated 18/9 1840.
Refs.
NGV 1894, p.68 (III.Vestibule, no.4); NGV 1905, p.107 (IV.Vestibule, no.20)
For the sitter, see e.g. https://en.wikipedia.org/wiki/Princess_Adelheid_of_Hohenlohe-Langenburg. In 1852, a suggestion that she marry the 44-year-old Napoleon III, soon after he was declared Emperor of France, was effectively vetoed by Victoria and Albert, apparently mainly on political grounds. Four years later, aged 21, she married Frederick VIII, Duke of Schleswig-Holstein, with whom she had seven children, retiring to Dresden after his death in 1880