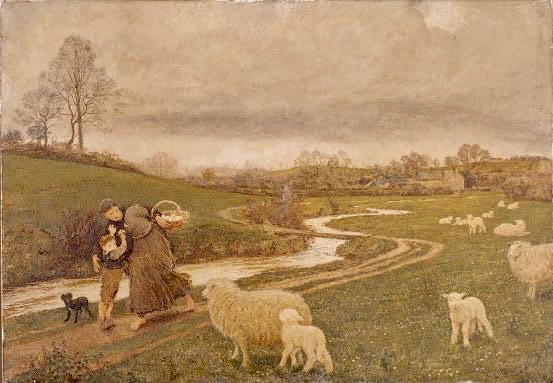 Walker, Frederick (1840-75; English)
The Right of Way (1875)
Oil on canvas, 78.5 x 112.0 cm
Purchased, 1891 (advice of Hubert von Herkomer)
National Gallery of Victoria (p.395.3-1)
A widely-praised social realist painter and illustrator, Walker died of tuberculosis at the age of only 35. This charming painting, one of his last (it is unfinished), was praised by Arthur Streeton and others, on its arrival in Melbourne.
In his analysis of Victorian social realist painting, Christopher Wood (1995) emphasizes the significance of Walker's influence on Herkomer, who recommended this work and others by Walker's contemporaries North and Smythe for purchase by the NGV.
Refs.
AR 1891, p.24; NGV 1894, pp.32-33 (I.La Trobe Gallery, no.43); NGV 1905, p.27 (l.La Trobe Gallery, no.50; ill.) [£1,260]
NGV 1894 quotes Herkomer's remarks on Walker; Gott 19C (2003), p.87, quotes Streeton's comments, from the Melbourne Argus, 1891)
For Walker, see also Bénézit 14, pp.577-78 and http://en.wikipedia.org/wiki/Frederick_Walker_(painter) (with further references); and Wood Victorian Painters (1995), vol.2, pp.68-71 (on Victorian social realist painting in the 1870s and 1880s), as noted above