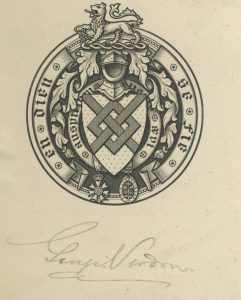 Portrait in the pre-Felton collection
Johnstone, O'Shanessy & Co. Sir George Verdon {1896} SLV [PH]
Pre-Felton works donated by Verdon
* Flaminio La Puberta 1866 {1867} Priv.coll. [SC]
Roberts St Anne, Bruges 1851 {1894} NGV [PA]
* Saupé Marcus Clarke {1893} Loc? [SC]
[photo at right: detail of Verdon's bookplate and signature from his copy of the 1894 NGV catalogue]
An influential public figure in colonial Victoria, Verdon was in turn Treasurer (1863-68), inaugural Agent-General for Victoria in London (1868-72), and then manager of the ES&A Bank in
Melbourne (from 1872), choosing William Wardell to design the famous "Gothic Bank" for the ES&A in Collins Street (1883-87). Verdon's country property, "Alton," near Mount Macedon, is now a notable historic garden.
Verdon was actively involved in the early development of the NGV, serving as one of the Commissioners of Fine Arts in 1864, Trustee from 1872, Vice-President (1881-3) and then President of the Trustees of the Public Library (1883-96). His name was preserved in the Verdon Gallery of the Public Library, opened in 1886, which later housed sculpture, including the Flaminio bust he donated in 1867.
Verdon's personal copy of the 1894 NGV catalogue was given to the author by his uncle in about 1995, providing the germ for the present project.
Refs.
Biography: http://adb.anu.edu.au/biography/verdon-sir-george-frederic-4776 (by A.G.L.Shaw; from ADB vol.6, 1976) 
For the Verdon Gallery, see NGV 1905, pp.156-8 (VI.Sculpture, nos.15-28), and Cox (1970), pp.410ff. (Appendix 6, a transcription of Cockerell's January 1937 report), esp. pp. 411-12. For "Alton," see http://www.altongarden.com/