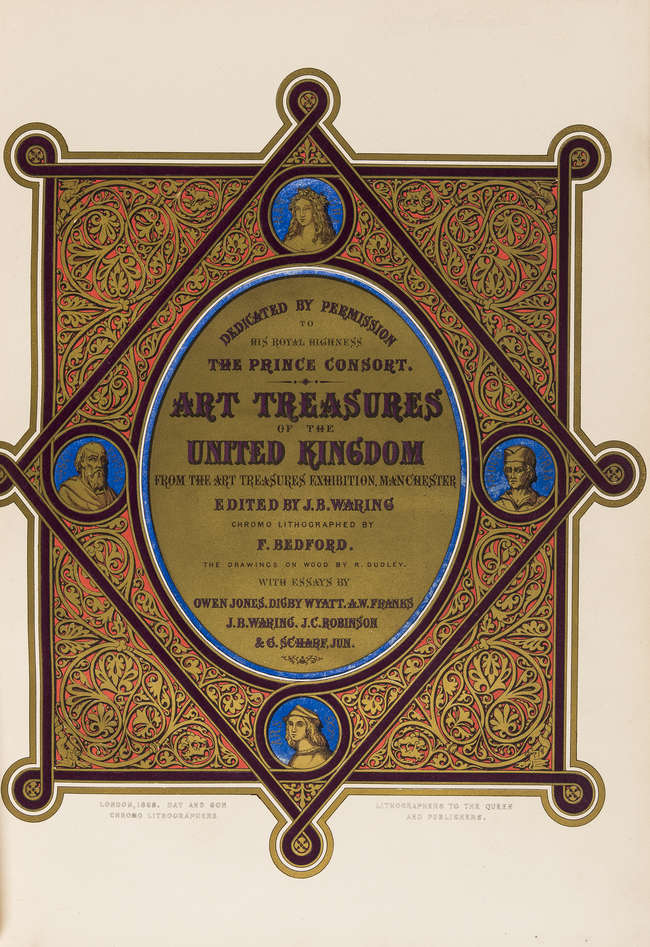 Waring, John Burley (1823-75; English), ed.
Art Treasures of the United Kingdom from the Art Treasures Exhibition, Manchester (London: Day & Son, 1858)
Acquired 1858
State Library of Victoria [AEF 709.42 W23]
After contributing to the guidebooks to the Crystal Palace at Sydenham in 1854 (with Wyatt and others), Waring was appointed superintendent of ornamental art and sculpture for the remarkable 1857 Manchester exhibition, described recently as "the first blockbuster" (see Pergam 2011).
The present volume recorded highlights of the sculpture and decorative artworks included in the 1857 exhibition, arranged in categories, with introductory essays by George Scharf, Owen Jones, and others. There are copious illustrations, including large-scale chromo-lithographs by Francis Bedford (and others), and smaller wood engravings by British illustrator Robert Dudley (1826-1909).
The SLV also holds two copies of the complete catalogue of the original Manchester exhibition, one of them possibly acquired in the late 1850s, and the other purchased in Melbourne in 1867 (and available online via the SLV catalogue).
[photo: chromo-lithographed title page, from another edition]
Refs.
MPL 1857, III.ii [1858], p.6 (& MPL 1861, p.541)
See SLV catalogue for further details (not reproduced). Other copies held by the Getty Museum and other institutions are available online; for the example reproduced here, see https://www.forumauctions.co.uk/65323/Waring-John-Burnley-Art-Treasures-of-the-United-Kingdom-1858-and-4-others-Digby-Wyatt-5?view=lot_detail&auction_no=1056 
For the complete catalogue of the 1857 Manchester exhibition (not illustrated), see SLV catalogue A 708.2 AR7 (copy labelled as supplied by Guillaume, London; inscribed "duplicate") and RARES 704 AR75V (inscribed as purchased from Melbourne bookseller Dwight in 1867: many thanks to SLV Rare Books Librarian Des Cowley for his advice on this, Jan.2021); this 2nd volume is available online through the SLV catalogue
See also Elizabeth Pergam, The Manchester Art Treasures Exhibition of 1857: entrepreneurs, connoisseurs and the public, Ashgate, 2011. On the 150th anniversary of the original exhibition, the Manchester Art Gallery mounted a tribute show: see e.g. Tristram Hunt, Art Treasures in Manchester (2007) [not yet seen]
For Robert Dudley, see e.g. http://www.victorianweb.org/art/illustration/dudley/intro.html (all websites noted accessed 12 Feb.2021)