Willmore, James Tibbits (1800-1863; English), after Turner, J.M.W. (1775-1851; English)
Italian Landscape (River Scene in Italy)
Engraving
Gift of John Pascoe Fawkner, 1868
Unidentified; present location unknown
Willmore was known particularly for his engravings of the landscape paintings of Turner, with whom he worked closely between 1828 and 1842. Unfortunately, this impression no longer appears to be in the Melbourne collection, and the various details available in the early NGV records make precise identification difficult.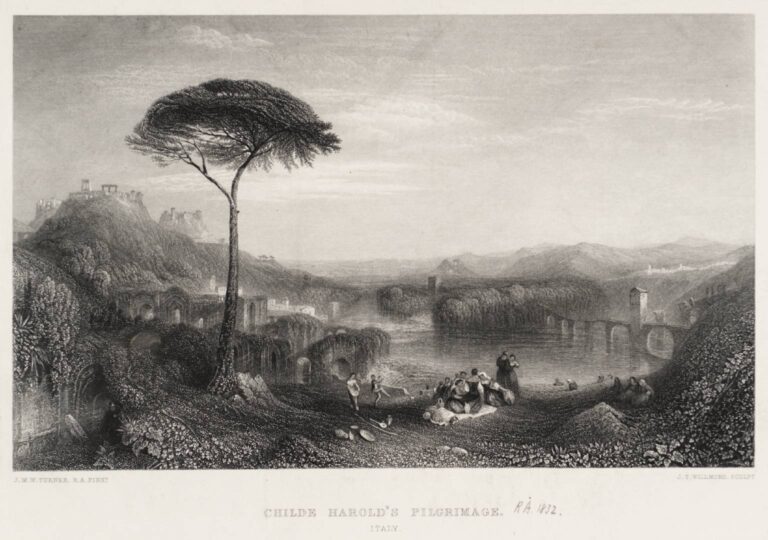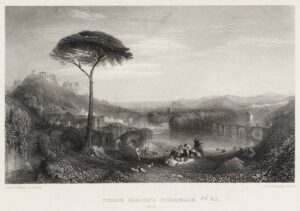 It may have been an impression of an engraving such as Willmore after Turner Childe Harold's Pilgrimage. Italy, reproduced here.
[comparative photo: Willmore after Turner: Childe Harold's Pilgrimage. Italy, 1859-61 (Tate Britain T06338)]
Refs.
Possibly PF (acc.no.p.180.9-1), under 1868 (as "Unknown: River scene"); AR 1870-71, p.34: Engravings (framed): "Turner, J.W. – River Scene in Italy – Presented by J.P.Fawkner"; NGV 1894, p.108 (V.Buvelot Gallery, 2nd bay, no.34: as "Italian Landscape," by WIllmore after Turner, donated by Fawkner in 1868); not listed in NGV 1905
For the comparative engraving reproduced here, transferred from the British Museum in 1988, see https://www.tate.org.uk/art/artworks/turner-childe-harolds-pilgrimage-italy-engraved-by-willmore-t06338 (accessed 15 Oct.2020)