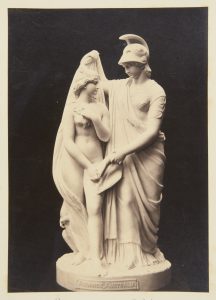 Halse, George (1826-95; English)
Advance Australia 1865
Marble, size unknown
Presented by Mrs Fitzroy Kelly, 1891; de-accessioned and auctioned, 1943
Present location unknown
[contemporary photo in British Royal Collection]
Halse worked full-time in a London bank, first as a clerk and then manager, while leading a parallel career as a self-taught, prolific and successful sculptor, praised by Ruskin, amongst others. He also found the time to write a popular sculpture manual (A Guide to Modelling, 1880, frequently reprinted), as well as poetry and novels!
This statue, representing mother England and her nubile daughter Australia, with a kangaroo in tow, was exhibited at the Royal Academy in 1865. A contemporary photograph, shown here, is in the British Royal Collection. The group was also reproduced and discussed in the Art Journal, May 1866; according to the anonymous reviewer, "Britannia [is] in the act of unveiling the virgin beauties of Australia, who, surprised and pleased, boldly steps out from her native wilds, into the clear open space of civilization."
The size of this work is not recorded, but it seems to have been somewhat smaller than life-size, to judge from its appearance in the photograph of the Public Library foyer published in the 1905 NGV catalogue.
At the 1943 auction of NGV sculpture, this group was sold for the remarkably small sum of £11, NGV director Daryl Lindsay personally initialing the record of sale in the gallery's acquisitions register.
The statue seems to reflect changing ideas at the time about the different regions of the world. Traditionally, as still on the Albert Memorial of 1863-72, only four continents were depicted (Africa, America, Asia and Europe). By contrast, 6 bronze figures, representing South America, Asia, Oceania, Europe, North America and Africa, made by various French sculptors, were shown at the universal exposition in Paris in 1878 (now outside the Musée d'Orsay). L'Océanie, by Mathurin Moreau (1822-1912), is bare-breasted, like all the other figures except Europe, and is also accompanied by a kangaroo – a considerably less timid animal than Halse's.
Refs.
AR 1891, p.26; SB, p.460, with added note by Daryl Lindsay regarding the 1943 sale; NGV 1894, p.131 (VI.Rotunda, no.29); NGV 1905, p.155 (VI.Sculpture – Entrance Hall, no.11)
The Royal Collection photo, dated to c.1865, is from an album formerly owned by Edward VIII: https://www.rct.uk/collection/2923328/britannia-and-australia-by-george-halse (accessed 5/10/18). See also "Advance Australia," The Art Journal, May 1866, pp.33-34 (engraving available online)
At the 1943 NGV auction, two further works by Halse, The Hop Queen and Hush, acquired after 1905 (and hence not included in this catalogue), were also sold, again for low prices: see linked entry as noted above. For Halse, see AKL 68 (2011), pp.366-67 and Bénézit 6, p.1072 (both listing this statue, as still in Melbourne); Bénézit mentions Ruskin's praise for Halse, and lists recent auction prices, including £5,500 for a marble Young England, auctioned in London in 1986
See also http://en.wikipedia.org/wiki/George_Halse (accessed 27 Sept.2018), discussing 19th-century debates about the regions of the world, and comparing the Albert Memorial. For the Musée d'Orsay statues, shown after 1878 at the Paris Trocadero, see https://en.wikipedia.org/wiki/Musée_d%27Orsay#Sculptures; the figure of Africa is by Delaplanche: see Delaplanche [after] Securité {1891} NGV [SC]