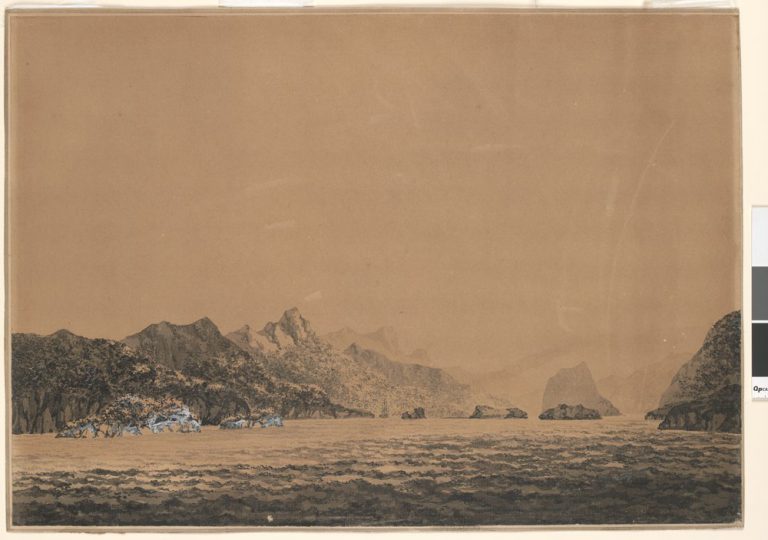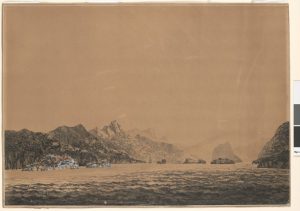 Hodges, William (1774-97; English)
[A View of the South Entrance of Dusky Bay] 1773
Indian ink on tinted paper, heightened in white, 37.3 x 53 cm
Presented by the Hon.C.J.Ham, 1882
State Library of Victoria (H5276)
This drawing, one of several previously attributed incorrectly to John Webber, dates from Cook's sojourn in New Zealand in March 1773. It has darkened considerably due to exposure to light.
Refs.
AR 1882, p.37; NGV 1894, p.114 (V.Buvelot Gallery, 3rd bay, no.33); NGV 1905, p.133 (V.Buvelot Gallery, 3rd bay, no.44): all as by Webber 
See SLV online catalogue entry, for details and reproduction (as "View in Dusky Bay, New Zealand"). See also Joppien, "Three Drawings by William Hodges" (1976), pp.25-32; and Joppien & Smith (1985), vol.2, p.144, cat.no.2.15 (title as indicated here), noting incorrect attribution to Webber inscribed on the verso, and commenting on the darkening of the paper