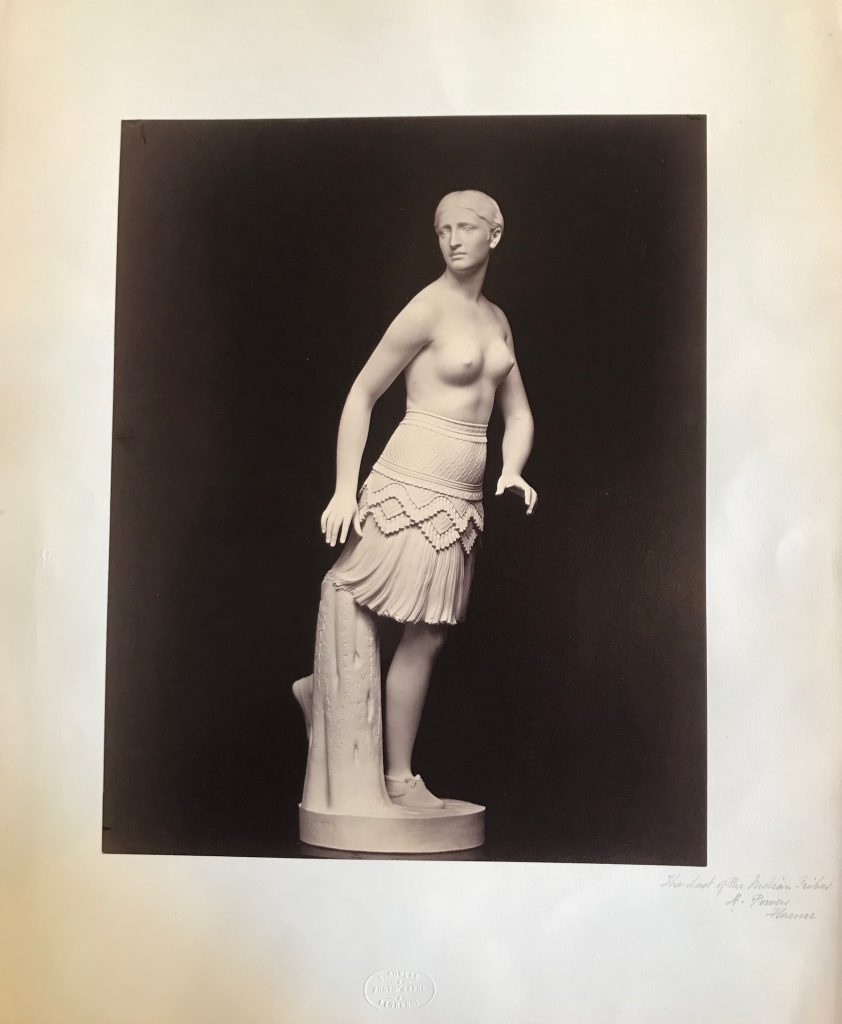 Photographs included in this catalogue:
Powers & others: Photographs of Rome etc. {c.1888} SLV [PH]
Powers & others: Views of Florence {c.1888} SLV [PH] 
[reproduction: Longworth Powers photograph of Hiram Powers' The Last of the Tribes (H2006.109/4)]
The son of noted US sculptor Hiram Powers (1805-73), Longworth was presumably named after Nicholas Longworths, a Cincinnati businessman who was Hiram Powers' major sponsor from c.1834, and sponsored the family's move to Florence in 1837.
Longworth Powers also trained and practiced occasionally as a sculptor, but he spent most of his life as a professional photographer in Italy. He lived and worked in a villa on the Viale Poggio Imperiale, outside Florence. His photographic output included portraits, as well as views of antiquities and other monuments in the city and elsewhere in Italy.
It seems probable that another collection of 1870s photographs, also by Longworth Powers and others, of classical and recent sculpture (SLV H2006.109, not catalogued separately here), may also have entered the Melbourne collection at the same time as the two albums listed above. It includes photos of Hiram Powers' most famous sculpture, The Greek Slave (extant in multiple variants), and his The Last of the Tribes (1867-72), a female figure symbolising the disappearing Native Americans (reproduced above).
Refs.
For information on Hiram Powers and his sons Longworth and Preston (also a sculptor), see e.g. AKL 96 (2017), pp.443-45, including some of the details noted above, with good details and references. For Longworth Powers' villa, see https://tuscany-toscana.blogspot.com/2019/04/villas-of-florence-and-19th-century.html#.XbJ2VS1L08Y (sites accessed 25 October 2019); and for his sculpted busts, see e.g. https://americanart.si.edu/artist/longworth-powers-3866 (Smithsonian museum site)
The SLV's collection of photos of statues by Hiram Powers, Canova et al., listed by the library as accessioned in 2002 but obviously acquired earlier (LTWEF 41; H2006.109), contains 21 folios, disassembled from an album; author's ID photo shown here. For further details on this album, see Reproductions, casts and copies