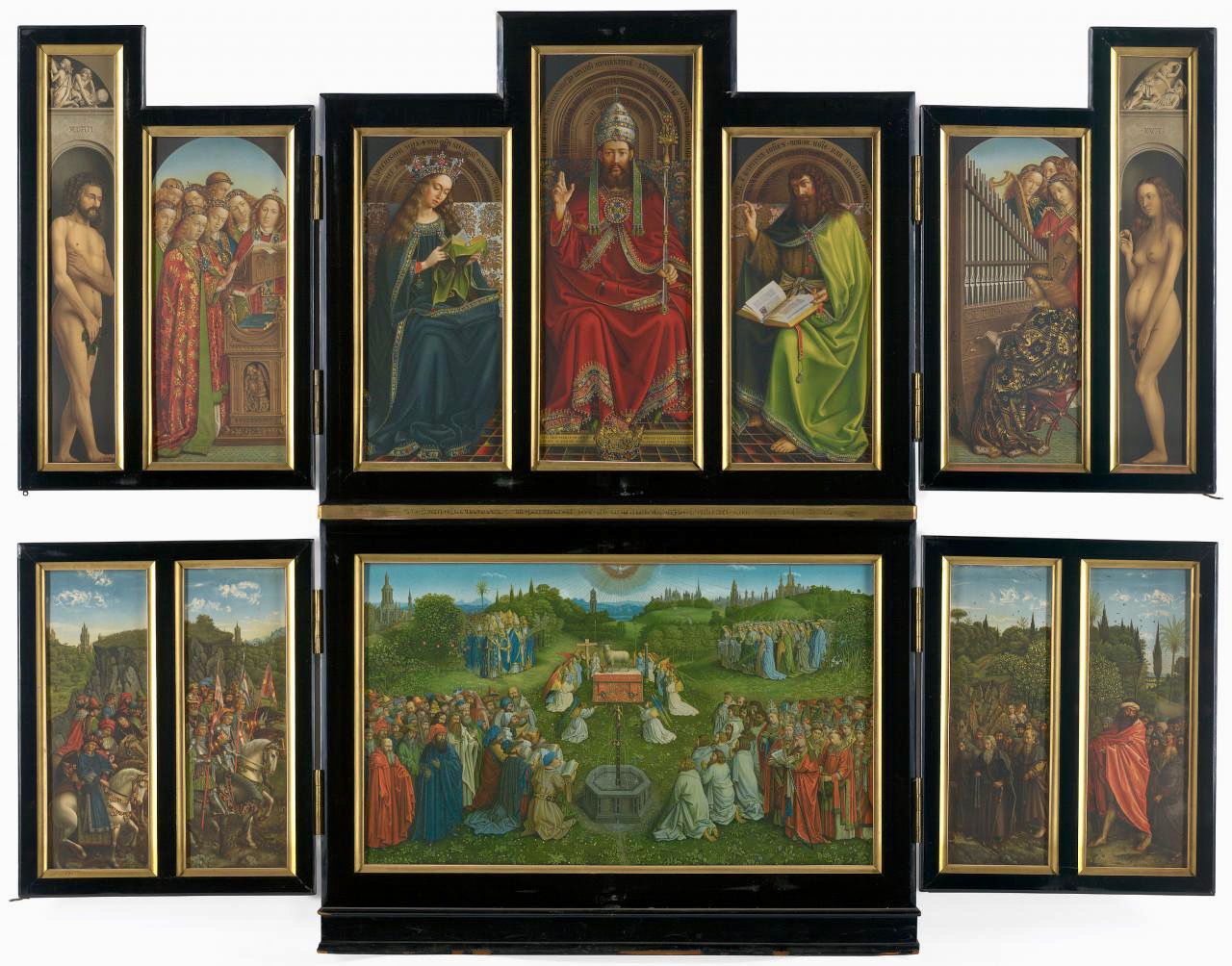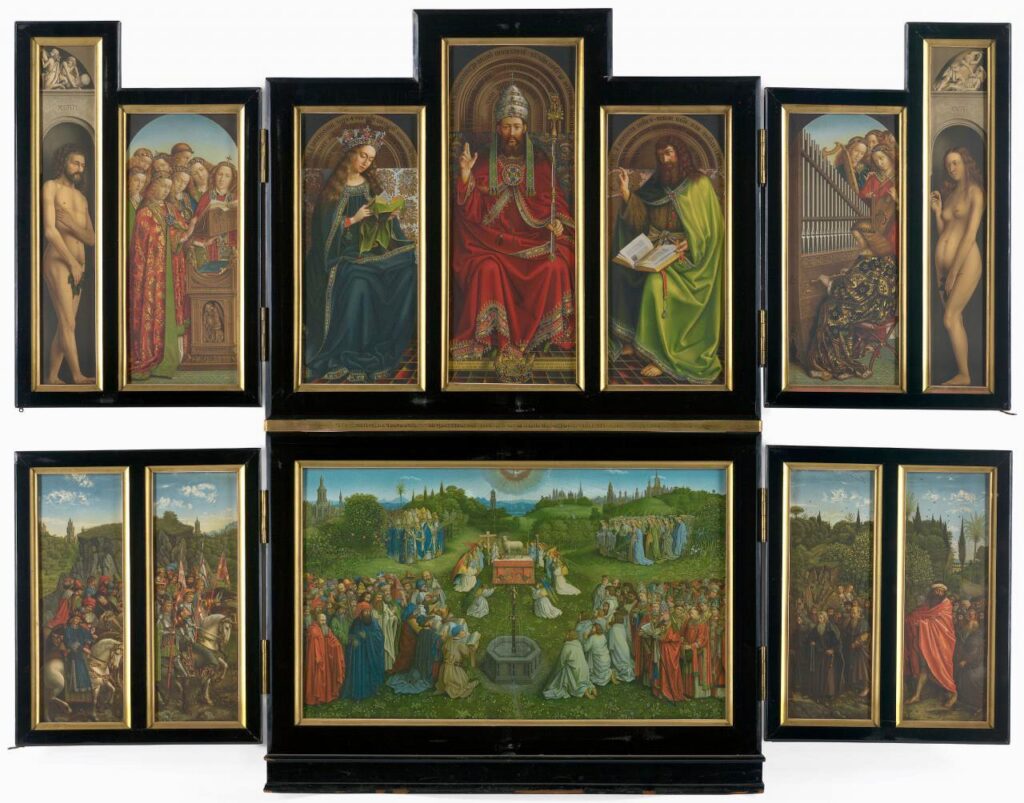 [photo: Hangard-Maugé & Schultz after Jan & Hubert van Eyck: lithographic reproduction (1868) of the Ghent Altarpiece (NGV, purchased 1868)]
In several meticulously-researched studies, Melbourne art historian Alison Inglis has emphasized the reliance of both private and public collections in colonial Australia on "replicas, reproductions and copies."
Although the modernist "tradition of the new" tends to view such objects askance, 19th-century audiences had no such qualms. An Argus article of 1868 proclaimed: "we are decidedly of the opinion that good copies of really great works are better than the mass of indifferent originals we possess"; and another Argus writer (1869, also quoted by Inglis) was full of praise for Melbourne's "mania for copies."
These views were shared by many at the time, including influential individuals associated with the Public Library and the NGV, and as a result considerable quantities of such material entered the pre-Felton collection, beginning with the initial acquisitions of plaster casts and other reproductions, in 1860-62.
Although original paintings and sculpture were acquired regularly from 1863 onwards, reproductive works of various kinds continued to enter the collection in large quantities throughout the pre-Felton period, providing a valuable guide to the taste and artistic attitudes of the era, as Ann Galbally, Alison Inglis and others emphasized through their inclusion in the "First Collections" exhibition/catalogue (1992).
Copies and facsimiles continued to be displayed in the NGV well into the 20th century, although Bernard Hall took some care in NGV catalogues issued from 1894 onwards to identify copies as such. However, criticism of this practice was voiced authoritatively and effectively in a 1937 report by Felton Bequest adviser Sir Sydney Cockerell, who observed that "it is a grave error to combine authentic works of art with so many modern so-called reproductions." A more recent softening of this view (especially after Postmodernism complicated the whole question of artistic originality) has led to renewed interest in the reproductive culture of the past.
Nevertheless, after considerable thought, the compiler of the present catalogue has opted not to catalogue most of these works in the same detail as the original acquisitions. In practice, of course, the distinction is difficult to apply systematically. Thus reproductive engravings, including the important early engravings from the Levey Gift (1879), as well as copies and duplicates of paintings and sculpture, e.g. the painted copies produced under the terms of the NGV Travelling Scholarship, do still appear in the main catalogue.
Groups of material not listed in depth in the present catalogue are as follows.
Plaster casts
For complete lists of all the documented casts after antique and other originals collected for Melbourne between 1860 and 1904, see Plaster Casts. They provide revealing insights into the ideals and aspirations underlying the formation and early development of the pre-Felton art collection. Most of the casts were purchased, but many were donated, some by notable Victorian pioneers and public figures. Only a few of the casts are extant, most of them being de-accessioned from c.1900 onwards.
Arundel Society publications
This organization was founded in 1848 by Sir Charles Eastlake and others, expressly to spread knowledge of medieval and Renaissance painting, especially the Italian and Flemish "Primitives." Its annual publications, issued until 1897, were acquired enthusiastically by the Melbourne Library, and praised by Eugene von Guérard in particular, during his period in charge of the art school (1870-81), a selection being displayed in a special "Arundel Room" in the Picture Gallery during the 1870s. The NGV's Annual Reports issued from 1870 include details of each year's Arundel acquisitions.
From 1857, most Arundel Society prints were "chromolithographs" (coloured reproductions of modern copies of late medieval and Renaissance paintings). A spectacular example, still held in the NGV, is the copy of Jan and Hubert van Eyck's Ghent Altarpiece (1868), reproduced above. The 1897 NGV catalogue (p.120: V.Buvelot Gallery, 4th bay), also lists an unspecified "collection of chromo-lithographs" under "Publications of the Arundel Society"; and Alison Inglis (1988, 1992) discusses and reproduces several examples still in the NGV.
Arundel Society reproductions acquired for Melbourne (several still extant in the NGV and SLV: refer catalogues) included:
a complete set of woodcuts after copies of Giotto's Arena Chapel frescoes, published by Dalziel Brothers, 1853, with commentary by John Ruskin; for details and reproductions, see SLV catalogue and Galbally & others, First Collections (1992)
four 1860s engravings after Raphael by Ludwig Gruner (no longer in the collection: refer individual entries for details)
10-part lithographic reproduction of Jan and Hubert van Eyck's Ghent Altarpiece, acquired in 1868, meticulously produced to mimic the original in miniature (NGV p.15.10-1): see photo reproduced above
The Life of Pope Pius II as illustrated by Pinturicchio's frescoes in the Piccolomini Library at Siena, by the Rev. G.W.Kitchin. With ten engravings from the frescoes by Professor Grüner, 1881 (SLV)
see also below, under Photographic reproductions of works of art

Autotypes and other replicas
Autotypes (or carbon prints, produced from the 1860s onwards, especially to reproduce drawings), were also collected in large numbers for Melbourne during the period, and listed in the NGV's Annual Reports. For instance, AR 1882, p.37, lists 48 autotypes of "Drawings by the old Masters in the Library of Christ Church, Oxford" and 32 "large autotypes of Greek and Roman Sculpture in the British Museum and Vatican."
Both the 1894 and 1905 NGV catalogues list "Autotype Reproductions of Drawings by Old Masters" (without providing  specific details): see NGV 1894, pp.111 and 120, and NGV 1905, p.125, describing them as "on revolving screens." Until recently, a considerable number of these autotypes still appeared in the NGV's online catalogue, some catalogued under the name of Adolphe Braun, an early practitioner of the technique. However, these and other similar reproductions are currently being de-accessioned by the NGV and re-designated as research material.
Other documented pre-Felton acquisitions of autotypes etc. include:
A large set of photo-lithographs of Albrecht Dürer's woodcuts, produced by order of the Melbourne Public Library Trustees in 1869 by then Government photographer John Noone, and published as The Albert Durer Album (1869): refer SLV catalogue
8 "lithographs" replicating engravings by Marc Antonio Raimondi after Raphael and others, published by the Autotype Printing and Publishing Co., London, in 1868, and donated in 1869 by Mr Thomson (presumably Alfred Thomson)  (NGV p.251.1-1 to 8-1). Several of these still appeared in the NGV's online catalogue when last checked: see e.g. Adam and Eve (p.251.7-1: https://www.ngv.vic.gov.au/explore/collection/work/41476/; not reproduced)
11 autotype reproductions of John Horsley's cartoons for The Healing Mercies of Christ (St Thomas' Hospital, London) (ref.AR 1877, p.75; noting a substantial purchase price of 250 guineas; no longer extant?)
3 Chromo-lithographs from life studies by William Mulready (1786-1863), donated by James Scurry (ref.AR 1884, p.36): no longer extant. Later (1939), original works by Mulready were acquired by the NGV
"2 Coloured fac-similes of Egyptian Papyri from the Book of Ani" (ref.AR 1891, p.26, under purchases; see also NGV 1894, VI.52)
2 sets of photographs of Papua and the Western Pacific by J.W.Lindt, listed in AR 1894, p.22, under "Autotypes" (it is unclear whether these were original photographs or copies; for various original photos by Lindt, acquired later, see NGV catalogue)
Photographic reproductions of works of art 
NGV Annual Reports and the early catalogues also list a large number of photographs of works of art, several of them displayed in the galleries at various times, and others collected in large albums (several still in the SLV). They are a varied collection, as shown by the following examples:
"Album of Italian photographs, paintings & sculpture": ref.SLV catalogue (LTWEF 31; H2015.140/1-27), accessioned only recently, but clearly an old album, apparently one of those acquired from the Architectural Photographic Association (active in the late 1850s), whose stamp appears on a number of folios. It seems likely that this album was acquired around 1860, at the same time as other photographs by Roger Fenton and others (refer linked artist entry).
"Photographs from drawings by Raffael" in the Louvre etc., an album of 18 photos compiled by the South Kensington Museum (now the V&A): ref.SLV catalogue (H.2015.138/1-18). This album, accessioned only recently, was clearly acquired early in the history of the SLV. The drawings include autograph examples by Raphael as well as works now attributed to his pupils
Photo of Guido Reni's Aurora, Rome, donated by Dr Rowe, together with photos of ancient Roman monuments (ref. AR 1875, p.39; also listed in NGV 1894, p.127, and NGV 1905, p.118)
49 Photos of Sepulchral Monuments in Italy, Medieval and Cinquecentisti; published by the Arundel Society (ref.AR 1879, p.56) [see also Arundel Society, above]
16 Photographs of Pictures by Nicholas Chevalier. Donated by Chevalier (ref. AR 1879, p.56)
200 photos of "Greek, Roman, Egyptian, Assyrian, and other objects in the British Museum" (ref.AR 1882, p.37)
"A Quiet Nook," photograph presented by the Victoria Sketching Club (ref.: AR 1882, p.38)

"Album of Photographs of works by modern German artists" (ref. AR 1883, p.33)

Several albums of photographs by Longworth Powers and others, of works of art and architecture in Italy, certainly or probably donated by Henry Coathupe Mais in about 1888; these include two albums catalogued separately here (substantially of architectural subjects), and another reproducing ancient and modern sculptures (for further details, see linked entries for Powers and Mais)
6 Photographs of Raphael's Tapestry cartoons: catalogued in NGV 1894, pp.107ff. and NGV 1905, pp.118 etc. (date of acquisition unknown)
"Sir Joseph Banks – Photo of Engraving by J.Smith after painting by Benjamin West" – gift of Prof.Morris (ref.AR 1898, p.27)
Series of stereographs of NGV works (including casts) by Boake; presented by Sands & McDougall 1900 (ref.AR 1900, p.30)
"Portrait of M.Le Brun" and "La Charite after A.del Sarto" (photographs chosen from Alfred Felton's collection under the terms of his will: ref.AR 1904, p.26)
Reproductions of decorative arts objects   
Finally, various replicas of decorative arts objects, some of them still in the NGV, are listed in the gallery's various annual reports and early catalogues, especially after about 1880. In some cases, further research appears to be required in order to disentangle original works from replicas in this corpus of material (see now Decorative Arts – Introduction).
Relevant documented purchases include:
Franchi & Sons, London: Ewer and Tankard (electrotype reproductions), purchased 1862 (both still in NGV: refer catalogue)
Various examples of reproduction German etc.metalwork acquired from the 1880-81 Melbourne International Exhibition (ref.AR 1881, p.54)
"Electrotype reproductions, from Elkington and Co." (ref.AR 1884, p.35; still in the NGV: refer catalogue for details)
"Reproductions of Keramic Art, by Minton" (ref.AR 1886, p.26; cf. NGV catalogue, apparently listing several of the examples listed in AR 1886)
"Roman Art Candlesticks, from forms in the British Museum" (ref.AR 1889, p.41)
A series of works described as plaster reproductions of metalwork and timber panelling (14th-17th century English etc.), listed in AR 1895, pp.25-26 (in some cases noting the originals as in the V&A and other collections)
An extensive list of historical examples of ceramic ware, described as reproductions of originals held in the V&A and other collections (ref.AR 1897, p.29)

 
Refs.
For the general issues involved here, see in particular Alison Inglis's two detailed essays in Galbally & others (1992), pp.31-37 (for the Argus quotes cited above, see esp.nn.1 and 37) and 66-71 (including catalogue entries for chromo-lithographs etc.). See also Inglis, "Art at Second Hand" (1988). Cockerell's 1937 report is reprinted in full in Cox NGV (1970), Appendix 6, esp.p.412 (quoted). See also Bunbury Picture to Print (2006), including discussion and reproductions of the van Eyck facsimile by Hangard-Maugé & Schultz, pp.22-23. For autotypes, evidently a precursor of black and white photocopies, see e.g. https://www.thefreedictionary.com/autotypes (accessed 9/10/18)