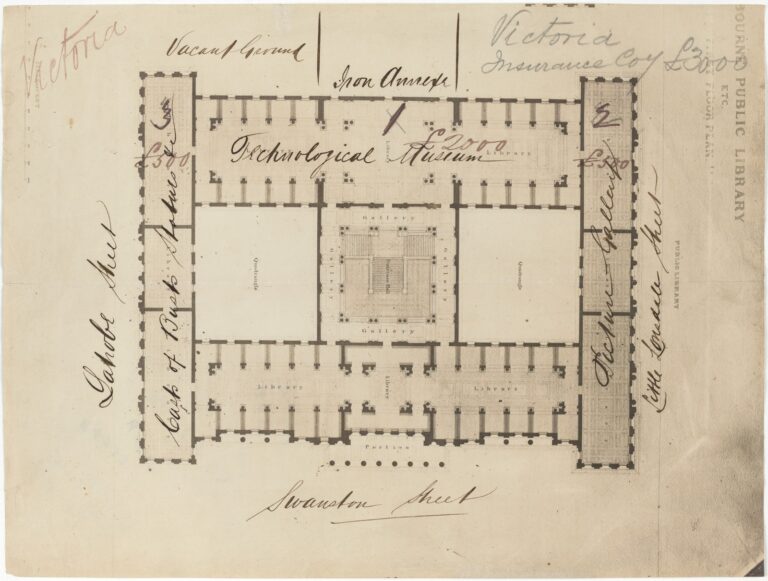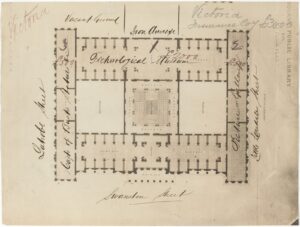 Melbourne architect Joseph Reed (c.1823-90) won the competition for the Melbourne Public Library in 1854, and the original building (the main section of the existing west façade on Swanston Street) was built in stages through to 1864; see also Queen's Hall. A more grandiose domed scheme for the entire block by Reed (1859) did not eventuate, at least in the terms he envisaged.
[photo: Joseph Reed: MPL masterplan, 1859/1866 (SLV H2010.69/10)]
The initial acquisitions of plaster casts and paintings (c.1859-64) were first displayed in the library and then housed in separate galleries along LaTrobe and Little Lonsdale Streets: see photo of plan below, dated by the SLV to 1859/1866. A large iron annexe constructed further to the east for the Intercolonial Exhibition (1866-67), later became the Technological Museum.
Charles Nettleton's photos of the painting gallery in 1872 suggest a makeshift structure, but by 1875 a more substantial picture gallery (later named the McArthur Gallery) was opened, further to the east, connected to the Library via a covered walkway: see photo below.
During the late 1880s and early 1890s, several further exhibition spaces were added to accommodate the NGV's expanding collection, including the Stawell, La Trobe and Buvelot Galleries; and sculpture was housed in a dedicated space called the Rotunda. The illustrated catalogues published by the NGV in 1894 and 1905, together with documentary prints and photographs, help clarify both the sequence and style of installation in these various spaces.
Other works included in this catalogue were housed elsewhere during the pre-Felton period – in the Library proper (notably photographs, and some prints); a separate decorative arts collection; and other material (ethnographic, Egyptian) regarded at the time as the preserve of the separate Melbourne Museum (originally at the University of Melbourne, and then after 1899 in a new space at the Russell Street end of the Library complex).
Refs.
The early building history is given detailed attention by Mary Lewis in SLV & others, Art of the Collection (2007), pp.6-19); see also the exhibition catalogue Free, Secular and Democratic: Building the Public Library 1853-1913, available online as https://www.slv.vic.gov.au/search-discover/galleries/free-secular-democratic
Further early architectural drawings are available via the SLV's online catalogue. Further details and source material appear in the Summary Chronology and under Documentation