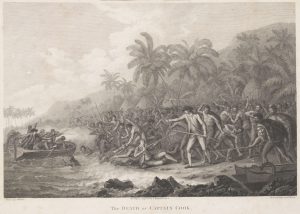 Bartolozzi, Francesco (1727-1815; Italian/English) and Byrne, William (1743-1805; English), after Webber, John (1751-93; English)
The Death of Captain Cook 1785
Engraving, 25 x 38 cm
Presented by C.J.Ham, 1882
State Library of Victoria (H29416)
This famous image of Cook's death in Tahiti in February 1779 was based on a composition by Webber, the artist member of the explorer's third and last voyage. The inscriptions indicate that Bartolozzi engraved the figures and Byrne the landscape.
This is a reissue of an engraving better known in its 1784 edition; a proof in the British Museum is titled The Death of Captain Cook… by the murdering Dagger of a Barbarian at Carakakooa… He having there become a victim to his own Humanity. A printed explanation notes that Cook, standing slightly to the right of centre, was killed while "calling to his People in the Boats to cease Firing."
In earlier versions of this composition by Webber, in watercolour and oils, held in the Mitchell Library and Dixson Gallery, State Library of New South Wales (dated to c.1781-3 by Joppien and Smith), Cook's white clothing contrasts even more strongly with the surrounding figures.
Webber's re-enactment was one of a number of visual, poetic and theatrical representations of the event, produced from 1780 through to Zoffany's dramatic canvas of c.1795 (National Maritime Museum, London), all blending heroizing and realistic elements in varied combinations: for detailed analysis, see the extended discussions by Bernard Smith (1960/1989) and Glyn Williams (2008).
See also separate entries for drawings by William Hodges (previously attributed to Webber), also donated by Ham in 1882.
Refs.
AR 1882, p.37; NGV 1894, p.112 (V.Buvelot Gallery, 3rd bay, no.30); NGV 1905, p.131 (V.Buvelot Gallery, 3rd bay, no.36) 
See SLV online catalogue for details and reproduction as shown here.
For the 1784 engraving, see Joppien and Smith, Art of Captain Cook's Voyages (1985), vol.3, p.537, cat.no.3.305A (British Museum impression), also quoting the extended title as noted here ["…a victim to his own Humanity."]
Bernard Smith, European Vision and the South Pacific [1960], rev.edn., Yale/Oxford UP, 1989, ch.4, pp.108ff., assesses Webber's artistic contribution to the third voyage, and also, pp.118ff., examines the iconography of Cook's death; for the latter, see also Glyn Williams, The Death of Captain Cook: a Hero Made and Unmade, Cambridge, Mass.: Harvard UP, 2008, esp. pp.71ff. (available via Google Books)
For Webber's watercolour and oil versions of this composition, see Joppien & Smith (1985), vol.3, pp.536-37, cat.nos. 3.304 and 3.305. For Byrne, see AKL 15 (1997), p.426; and for Bartolozzi, see linked artist entry